Services
Release Manager Training – Dates 2024 in Vienna and Munich
Faster service delivery. Minimizing the risk. Increased customer value. These are just a few of the benefits that effective release management brings. This training prepares prospective release managers to implement structured release management processes and helps managers evaluate and improve their release management. In addition, agile approaches to release management such as DevOps will be addressed in this training.
Learning Objectives: Release management & the tools of the trade.
In our release manager training, you will learn about the various aspects of release management as well as the tools needed to implement them optimally. The following topics will be addressed in particular:
Release Management
Identification of the benefits of a functioning release management process
Introduction of a uniform nomenclature for release management: release types, stages, …
Examples of releases
Release Management "Best Practices"
Release management processes
Roles in release management
DevOps: Agile release management
Interfaces with project management and other ITSM processes
Release planning
Build and test planning
Rollout planning
Rollback/Fallback Planning
Delivery
Packaging
Impact analysis
Roll-Out
Deployment
Release management tools
Planning tools
Reporting tools
Hand-Over Area
Definite Software Library
Definite Hardware Library
Deployment tools
Release management tools
The management perspective
Key performance indicators for
Success control
Management reports in the release process
Problems in release management
Costs and potential savings for the
Release Management
Previous experience: What you bring
Basic knowledge of IT service management and/or software development is beneficial, but not a requirement. Furthermore, no prior knowledge of release management is required.
With this training, mainly Release Managers, Integration Managers, Build & Deployment Managers and IT Managers are addressed.
Dates:
09.04. – 10.04.2024 and 22.10. – 23.10.2024 in Vienna
16.04. – 17.04.2024 and 15.10 – 16.10.2024 in Munich
Interested? Then send us your request by e-mail.
Price per person: 2.250 € plus. VAT, if applicable
Incl. comprehensive and high quality training materials as well as photo log of the results.
Group of participants: 4-10 persons, supervised by a trainer
With at least 4 participants of a client, training can also be organized directly at the client´s location.
Then we will be happy to send you an offer for your in-house training!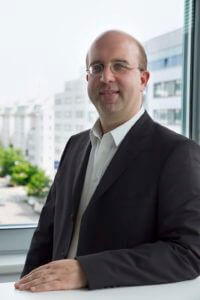 Steffen Sperling
"Train-the-Trainer" certification
Steffen Sperling studied Computer Engineering/Software Technology at the Technical University of Hamburg and has successfully completed software development and integration projects for many of our customers. A critical factor for the success of all these projects has always been release management and, in recent years, its agile variant DevOps. He also has a train-the-trainer education and has developed our release management and DevOps trainings together with his team of experienced consultants and trained trainers.
Personal and practical. This is important to us.
Benefit from our expertise in release management training! Ventum Consulting defines standard-compliant release management processes and covers all phases from release planning to integration and testing to roll-out.