News
Follow-up report and pictures of Agile Beyond IT (ABIT) 2023
"How good leadership promotes self-organization" was the title and content of our workshop at the ABIT (Agile Beyond IT Conference). Four hours flew by. This was due in particular to our very proactive participants. We were lucky enough to take the pole position and give the actual unofficial keynote of the conference, so to speak.

Our workshop was about self-organization, why leadership is needed for this and what it can look like. We have further developed our customized Delegation Poker and shown how it can help managers to master the balancing act between freedom and guidance. Then we visualized the degree of self-organization using a company-wide delegation matrix in spider diagrams. The dialogue in the fishbowl about opportunities and risks in the use of metrics was particularly interesting.

Many thanks to our participants who made the workshop so lively: Henning Bär, Richard Bretzger, Paul Dahlke, Daniel Feiler, Felix Stein, Swantje Welters, Jeannette W ernicke and all the others.
What did the participants experience at the Ventum Consulting workshop?
Greater ownership by teams is an often-cited goal of agile working. Unfortunately, this is rarely achieved in practice. Teams are suddenly expected to take on more responsibility, but are often left alone with the new tasks. At the same time, managers are fighting for their raison d'être instead of actively guiding their teams into self-organization. It is often forgotten that it is precisely this path that requires special support from the leadership.
Self-organization therefore needs both: freedom and leadership! How do managers reconcile the two? So how does leadership need to change to make that happen?
This is because we often experience that rigid role models are not suitable for this and have therefore developed a flexible construction kit. It supports managers and teams in carefully shaping the assumption of responsibility, providing a framework while at the same time enabling the greatest possible flexibility.
We introduced you to this kit in our interactive workshop and experienced together how you can customize it to your needs. Using Scrum roles and a role from the Spotify model as examples, we showed how different leadership roles can develop their leadership style, accompany teams and delegate better. We used tools such as Delegation Poker and a delegation matrix, which can also be built up step by step with several responsible managers (e.g. in a matrix organization).
Key takeaways from the workshop
Why self-organization needs leadership.
How leadership tasks in agile organizations are not only performed by executives.
How leadership tasks can be delegated step by step and accompanied. How to take responsibility.
How to achieve clear accountability between different managers and teams in a matrix organization.
How to establish a company-wide leadership model (building block) while maintaining uniformity and individual freedom at the same time.
How to visualize the degree of self-organization of an organizational unit.
The Ventum experts at ABIT 2023
Carsten Schweiger
As an organizational developer and Agile coach, Carsten promotes change in organizations with a focus on people and culture. He coaches interdisciplinary teams and executives towards self-organization and successful and appreciative cooperation.
He has been working in consulting for over 13 years and is himself an executive in the company. In the last 8 years he has initiated and supported (agile) transformations. In the process, he has accompanied more than 30 teams on their way to agility. He particularly enjoys conducting interactive workshops on topics such as IT Strategy, Product Vision, Dimensional Planning, Team & Corporate Culture, Leadership, Team Skills, etc. Previously, he implemented business intelligence, data warehouse and software development projects as an IT consultant. He discovered his passion for agile approaches in 2011 as a database developer in a well-established Scrum team. Since then, he has undergone numerous trainings and continuing education courses around Agile Leadership and is a Certified Scrum Professional with the Scrum Alliance.
His coaching training based on Nonviolent Communication helped him to develop a new inner attitude that enables him to empathically approach people and thus facilitate change processes.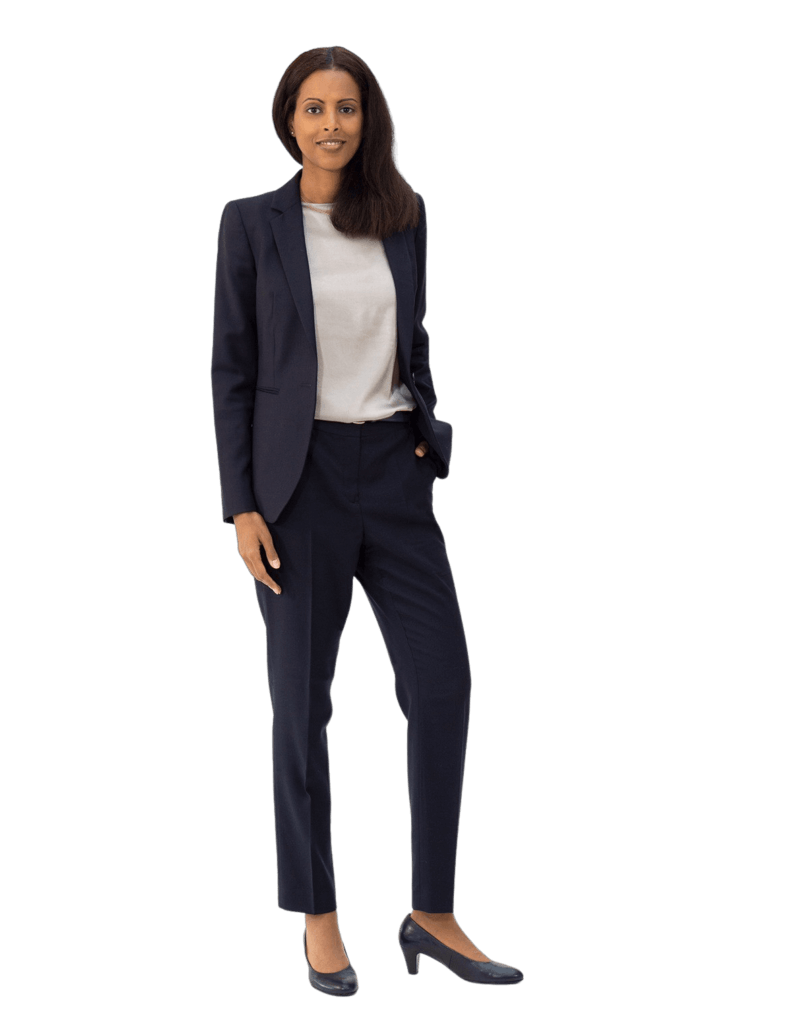 Helen Gebre
Helen is a systemic transformation consultant, coach and mediator who helps organizations establish sustainable change processes.
Before joining consulting 5 years ago, she worked in different companies from several industries in the area of (agile) project management and was able to accompany agile transformation projects from the inside due to the project proximity to IT. This experience from project management, as well as a passion for coaching and organizational development, is felt by her teams and executives when they accompany her. She manages to pick up people exactly where they are. Helen uses methods from mediation and coaching training as well as various methods from agile and systemics to specifically convey understanding of the necessary change and increase transparency in the company.
Thorsten Mueller
Since 2015, Thorsten has been working as a consultant in a wide variety of roles in agile product and organizational development. His focus is on large projects for the introduction and digitalization of internal processes, the development of digital products, the coaching of product owners and the co-design of change projects. Currently, as an Agile & OKR Coach, he is supporting the rollout of a Smart Citizen App within a Digital Ecosystem for a regional utility company.
Thorsten is particularly passionate about sharing ideas on collegial leadership, emergent and dialogic organizational development, the importance of organizational culture, and the interactions within systems. He likes to bring facets of this into teams and organizations via creative workshops and individual reflection. He builds on his background in Industrial and Organizational Psychology, five years of corporate leadership experience, and training in Agile Leadership, Nonviolent Communication, Management 3.0, and as a Certified Scrum Professional.